Hamper Program
Through a phone call or in-person intake interview, Okotoks and area residents (this includes Aldersyde, Davisburg, DeWinton, and parts of the MD of Foothills) in need of assistance can book an appointment to obtain a Food Hamper. At present, food hampers can be accessed six times in a 12-month period, there is no time limit between visits. You may self-refer (meaning you do not need to be referred by an outside agency) for the first six hampers but if further assistance is required you will be referred to the Okotoks Family Resource Centre (OFRC) to determine if you are eligible for additional food support or other support programs. OFRC will provide us with a referral letter for additional food hampers as determined by them.
During the intake process, we will ask for personal information such as name, birth date, address, how many are in your household, and if there are any food allergies or dietary considerations. We will also confirm the type of income you have at the present time, i.e. Full-Time, Part-Time, EI, Alberta Works, AISH, CPP, No Income, Student Loans, etc. You will be assigned an appointment time to pick up your hamper. If you will be late or unable to make your appointment you must call to inform us or reschedule as early as possible. You will need to provide a proper ID for each person listed on your application.
We reserve the right to ask for additional confirmation of residence or need.
We provide fresh produce, eggs, margarine, frozen meat, non-perishable food items, bread, and milk cards. We also provide non-food and personal care items as available in our Food Hampers.
Help Yourself Shelf Program
We provide bread and extras, including pet food, to anyone in need. No qualification or appointment is needed; you may stop in anytime during the Help Yourself Shelf hours listed. You must print your First Name and Number in Household on our sign-in sheet.
We do ask that you adhere to our policies regarding allowed limits, the type of bags that can be used, and that you are mindful of others' needs.
We recommend waiting until 1:30 pm on Tuesdays or 6:30 pm on Thursdays to access the shelves when our Hampers are being distributed.
Community Learning Garden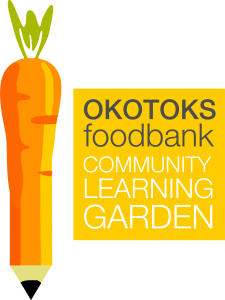 The Okotoks Food Bank Community Learning Garden came to life in 2017 thanks to a partnership with the Healthy Okotoks Coalition (HOC) and made possible by a +Fresh Community Garden Fund offered by Compass Group Canada and Food Banks Canada. Many wonderful community volunteers support us with gardening advice, planting, watering, weeding, and harvesting. Our partnerships with the Okotoks Garden Club and the Town of Okotoks are also very important in the success of this community project.
The Community Learning Garden is located at the east end of McRae Street as part of the existing HOC Community Garden Expansion. The OFB Community Learning Garden is used to grow vegetables for use in our Food Hampers includes an education component and used to promote healthy communities.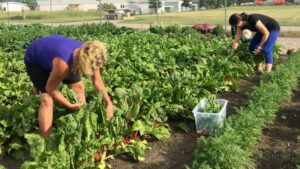 Our Activity Totes are part of this educational piece, these include interactive and curriculum-correlated materials to help teach your students or group about plants and garden ecosystems.
Each Activity Tote includes a hard copy of the lesson plan (as well as a USB with the digital files), detailed instructions for each activity; lesson materials, and a list of any additional materials required; curriculum connections; and additional resources that may be helpful to educators and leaders. Many of the Totes have been created to accompany specific science units and would be perfect as an introductory activity or culmination.
The Activity Totes cover topics such as:
Compost
Recycled Gardening
Water
Healthy Eating, Healthy Living
Pollution
Plants in our Daily Lives
Insects
Food Chains & Food Webs
Soil
Activity Totes are a FREE resource, and can be used on-site at the OFB Community Learning Garden, or signed out for use in your classroom or meeting place.
If you are interested in borrowing a Tote or simply like more information, please contact our office.
Going forward our plan is to offer on-site workshops at the Community Learning Garden for all community members to enjoy.
We would like to acknowledge and thank Lethbridge Inter-Faith Food Bank for sharing their Learn & Grow Activity Tote information and curriculum with us to use at our Community Learning Garden. They are innovators in the Community Learning Garden and Food Bank community!
Food of the Month Program
This is a new initiative to engage and educate our clientele on the benefits of healthy eating.
Our mandate is to provide the most nutritious, wholesome fresh foods for the individuals and families in need of our assistance in our community. We believe a Food Bank need not compromise dignity or health; our clients deserve the most nutritious food we can provide.
The typical client we see at the Food Bank has changed dramatically over the past few years. We have also seen an increase in the number of clients dealing with medical conditions that warrant a healthy, fresh diet. Many of our clients are not lacking the facilities to prepare food for themselves and their families so being able to provide fresh food options not only helps them stay healthy but also provides them with the ability to combat the stressors they are dealing with.
We feature a healthy, seasonal fruit or vegetable, "Food of the Month", each month in hampers, we provide our clients with information on nutritional benefits, how to buy and store the food, ways to prepare the food, and two 'tested' recipe hand-outs using ingredients provided in our hampers.
One of our clients recently had this to say about the program:
Not knowing how you are going to be able to provide food for your family is stressful enough let alone thinking about what to cook! This is a big help in feeding my family healthy food and providing a new recipe for us to try. This is such a great idea, we are grateful for this new program.
This program is funded partially through a $2000 grant from the Rotary Club of Okotoks, 2018 Angel Investment Night. We are grateful for their amazing support.
After the Bell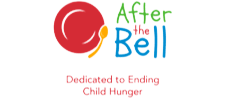 The After the Bell program is delivered in partnership with Food Banks Canada. It takes place over 8 weeks throughout July and August and is meant to fill the gaps when other supports – like school breakfast or lunch programs – are not available.
The packs contain child-friendly nutritious food including snacks, protein, and breakfast foods. These packs contain single-serve cereal, shelf-stable milk, applesauce, granola bar & oatmeal packets. Fresh food items, such as apples, oranges, cheese, and yogurt are added to the packs each week through additional funding provided by Food Banks Canada.
The program has been in place since 2015 and is expanding its reach into 8 provinces and 1 territory in 2018. In 2017 29,000 packs were distributed, this year, 2018, an incredible 69,000 packs have been distributed.
We are excited to be partnering with Food Banks Canada for the first time this year. We are delivering our Packs through community partnerships and summer camp programs as well as through our regular Food Hamper Program.
Thank you to the wonderful sponsors of this program:
President's Choice
Kellogg's Canada
Clover Leaf
Organic Meadow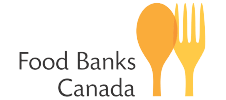 The Many Hands Soup Program
Our soup-making initiative, begun as a pilot in 2018 has blossomed into The Many Hands Soup Program. This program has received tremendous support by our community, including a recent donation of $5500 from the 100 Women Who Care in the Foothills to ensure that this program continues at the Foodbank for several more years.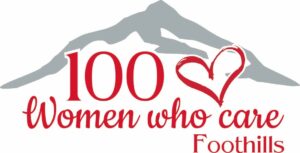 We meet one afternoon per month, and with the help of our talented Food Bank volunteers and community members we prepare approximately 50 litres of nutritious soup.
The soup is frozen and handed out during hamper sessions. Our clients choose their favourite from a selection of 3 different soups.
Our long-term goal is to develop this program into a cooking and learning experience for interested clients.