Okotoks Food Bank's 35th Anniversary Cookbook
Welcome to the Okotoks Food Bank Cookbook page!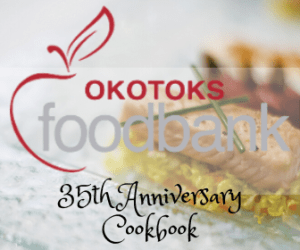 This year, the Okotoks Foodbank celebrates 35 years of service to our community. In recognition of this we would like to tell our Foodbank story through a beautiful cookbook highlighting the abundance of the Foothills County.
The theme of the cookbook is simple, approachable, local, seasonal.
Our vision is to inspire people to cook and connect.
As a community member, we invite you to submit photos for this project. Photographs of scenes from the Foothills region, that you believe showcase the theme of seasonal, local, approachable and simple or the vision of connecting through food.
Please submit photos as a high resolution jpeg to cookbook@okotoksfoodbank.ca and include your contact information as well as the location of the photo.
The deadline for submissions was  February 15, 2020.
Questions may be sent to Donna at cookbook@okotoksfoodbank.ca
Much has been accomplished in the foothills area around food security and there is still more we can do together.
Thank you for your time and interest in this endeavor to inspire, support, create, and connect.
Need Help
Help Yourself Shelves
(Walk In)
Monday : CLOSED
Tuesday: 1:00 – 4:00 pm
Wednesday: 4:30 – 6:30 pm
Thursday: 6:00 – 8:30 pm
Friday: noon – 4:00 pm
Hamper Pick Up
Tuesday: 1:00 – 3:00 pm
Thursday: 6:00 – 8:30 pm
Give Help
Donation Drop-Off Hours:
Monday: 12:00 – 4:30 pm
Tuesday: 1:00 – 4:30 pm
Wednesday: 12:00 – 6:30 pm
Thursdays: 9:00 am – 12:00 pm & 6 – 8:30 pm
Friday: 12:00 – 4:30 pm
Urgently Needed Items

Long grain rice (brown or white)

Canned Fish

Jam / Honey

Fruit Snacks for Children

Juice (1 litre or snack size tetrapaks)
Call Us or Visit Us
Ph: 403-651-6629
Unit #7 109 Stockton Point – Okotoks, AB T1S 1B3
Mailing Address: P.O. Box 942 – Okotoks, AB T1S 1B1
Charitable #: 890405376RR0001
© 1993 - 2020 Okotoks Foodbank Association