Okotoks Food Bank's 35th Anniversary Cookbook
Welcome to the Okotoks Food Bank Cookbook page!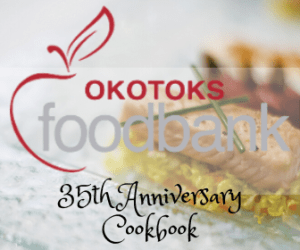 In 2020 the Okotoks Food Bank celebrates 35 years of service to our community. In recognition of this we would like to tell our Food Bank story through a beautiful cookbook highlighting the bounty of the Foothills area. We want our wider community to know our history, the many things we do at the Food Bank, the volunteer and community support aspect so vital to the Food\ Bank's ongoing success and the importance we place on nutrition and food security. As a local food producer, chef or community member, we need your great recipes! We are looking for recipes that showcase our philosophy, theme and vision for this cookbook.
Our all-embracing philosophy for the cookbook which also ties into the philosophy of the Food Bank is: A community experiences food security when all people, at all times, have regular access to nutritious, safe, personally acceptable and culturally appropriate food. When we, in the Foothills area work together as a community we can make a big difference in food security.
The theme of the cookbook is: simple, approachable, local and seasonal.
Our vision is: to inspire people to cook and connect. To help both novice and experienced home cooks attain delicious success.
Our target audience is: the residents of the Foothills and surrounding areas.
We invite you to submit recipes that focus on the above theme of simple, approachable, local and seasonal. And of course, we hope you highlight food produced in the Foothills and surrounding area.
Criteria for the recipes is as follows: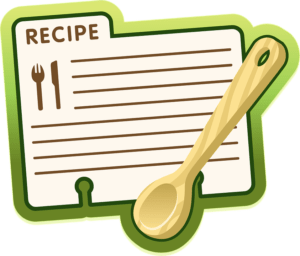 Inspired by our local community
Accessible ingredients or suitable substitutions
Limited processed foods
Concise and easy to follow directions
Preparation time, cook time and temperatures
Cost effective
Education (tips, techniques, ingredients substitutions, etc.)
Any relevant history or stories about the recipe
All recipes should be original (recipes that have become a family favourite, whether it's an old recipe passed down over the years or a recipe that you have modified to make it your own family treasure).
All recipes must be typewritten
Indicate which business or person the recipe credit should be given to
Provide a phone number if we need to contact you
DEADLINE DATE FOR SUBMISSIONS IS FEBRUARY 15, 2020
Email recipes to: cookbook@okotoksfoodbank.ca
DISCLAIMER – some recipes may not make the final selection due to the volume of recipes submitted or if they do not meet the criteria. Recipes will become the property of the Food Bank and will not be returned, therefore please do not submit your original copy.
Thank you for your time and interest in this endeavor to inspire, support, create and connect. Much has been accomplished in the Foothills area around food security and there is still more we can do together.
The Okotoks Food Bank Director was interviewed by Doug Dirks on the Homestretch CBC radio program on Monday December 9, 2019 about our 35th anniversary in 2020 and marking it with the Cookbook. Here is the link to the article and podcast.
If you have questions or need clarification please email: cookbook@okotoksfoodbank.ca
Okotoks Food Bank Cookbook Committee
Donna Large – Okotoks Food Bank Client Care Coord./Cookbook Committee Chair
Pamela McLean – Okotoks Food Bank Executive Director
Greta Kubis – Community Member
Carolyn Mercier – Okotoks Foodbank Volunteer
Darren Nixon – Divine cooking/Sobeys
Sherry Lindenback – 94 Take the Cake
Jarod and Michelle Traxel – Little Fast and Fresh
Hours of Operation
When can you come see us if you:
Need Help
Help Yourself Shelves
(Walk In)
Monday : CLOSED
Tuesday: 1:00 – 4:00 pm
Wednesday: 4:30 – 6:30 pm
Thursday: 6:00 – 8:30 pm
Friday: noon – 4:00 pm
Hamper Pick Up
Tuesday: 1:00 – 3:00 pm
Thursday: 6:00 – 8:30 pm
Give Help
Donation Drop-Off Hours:
Monday: 12:00 – 4:30 pm
Tuesday: 1:00 – 4:30 pm
Wednesday: 12:00 – 6:30 pm
Thursdays: 9:00 am – 12:00 pm & 6 – 8:30 pm
Friday: 12:00 – 4:30 pm
Days left for Recipe Submission
Urgently Needed Items

Cookies

Juice (1 litre or snack size)

Canned Fruit

Canned Vegetables

Paper Towels
Call Us or Visit Us
Ph: 403-651-6629
Unit #7 109 Stockton Point – Okotoks, AB T1S 1B3
Mailing Address: P.O. Box 942 – Okotoks, AB T1S 1B1
Charitable #: 890405376RR0001
© 1993 - 2020 Okotoks Foodbank Association