Pamela McLean
Executive Director
Details will be added soon!
Say good words, think good thoughts, do good deeds.
Sandi Courtorielle
Volunteer Coordinator
Born and raised in Alberta, Sandi returned to live in Okotoks in 2015 after 25 years of living on Vancouver Island. Sandi has been involved in non-profit organizations for many years. She managed an independent not-for-school on Vancouver Island and prior to that coordinated the Meals-On-Wheels program for the Parksville/Qualicum Beach District. Non-profits and volunteering have always been important to Sandi, lending her time and talents to organizations such as the local Public Library, SPCA and Cancer Society to name a few.
Here at the Food Bank she can often be found persuading people to give beets or swiss chard a try. Outside of work she enjoys spending her time reading and finding great deals at thrift stores and garage sales. Sandi has several siblings and delights in being Auntie to many nieces and nephews throughout Alberta and BC.
Quality means doing it right when no one is looking. ~ Henry Ford
Donna Large
Client Care (Part-time)
Donna's career and volunteer paths have centered around serving others in need. She has a degree in Home Economics with an extensive background in food and nutrition education in the public health and the agriculture sectors. It's important to her that everyone has access to safe and nutritious food. She has taught cooking classes, facilitated community kitchens and managed Fresh Food Box programs for many years. In addition to teaching, Donna has experience in food writing and developing nutrition resources.
Donna enjoys all things about food…growing, cooking, eating and good nutrition. Since she was very young she has been influenced by her mother and grandmothers' instinctive and creative cooking skills and gardening knowledge. She's always experimenting with recipes or developing new ones. She feels it's important to pass these skills onto others.
Donna has volunteered with many organizations in our community. Her strengths are in leadership and program development.
Donna has been married to Chris for 36 years and has 2 adult married sons and daughter-in-law's and 3 young grandchildren. She has lived in Okotoks since 1984. She loves the friendly small-town atmosphere, community spirit and the many opportunities to serve in our community.
If it ain't broke, don't fix it.
Paul Meadows
Warehouse Coordinator (Part-time)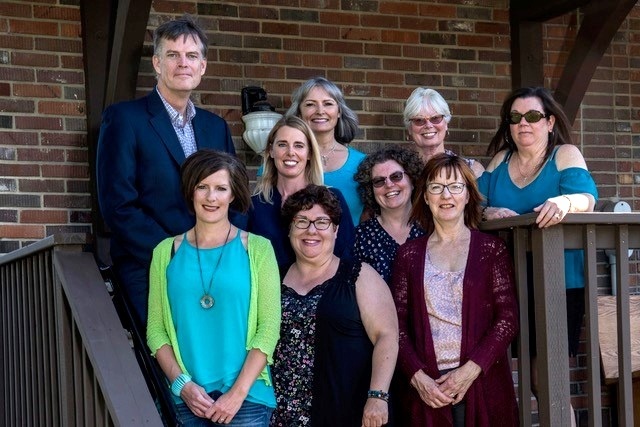 Meet our Board of Directors
John Hartley
President
John has been a member of the Board since March 2017. John was the Chair of Big Rock Brewery from 2014 through 2017 and has been the People's Warden at St. Peter's Anglican Church for the past six years. He has been a resident of the Foothills area since 1976 and has lived in Okotoks since 2004. He is married to Lorrie and has two children and two grandchildren.
Church Affiliation: St. Peter's Anglican Church
Soli Deo gloria.
Gina Cook
Vice President
Gina joined the Board in April of 2016. Gina was asked by one of the founders, Lona Olimans if she would take over her position as Serving Team Lead when she retired, and graciously accepted. After a year as Serving Team Lead she accepted a position on the Board, filled in as Secretary for a short time, and now for the past year has been serving as Vice President. She really enjoys being on the Board and working with such a great group of people. Gina says she feels blessed to be able to work for and serve our great community. Gina has lived in Okotoks for the past 15 years with her husband and their two children, and now their three grandchildren. She and her husband own C-Tech Millwrighting Ltd. They enjoy spending time together, especially going camping and having family dinners. Okotoks is a great community to live in and raise children.
St. Peter's Anglican Church
Phillippians 4:13 I can do all things through Christ who gives me strength.
Tanis Young
Treasurer
Tanis joined the Board in December 2014. Tanis owns a bookkeeping business, Maven Bookkeeping, opening shop in May of 2011. She joined the Board because of a desire to use her skills in a volunteer/community-focused organization. Tanis and her husband Kevin moved to Okotoks in 2002 from Manitoba. She has an adorable pup named Skoki and enjoys cycling, running and hiking.
Okotoks Evangelical Free Church
Philippians 4:13…I can do all things through Him who strengthens me.
Lorrainne McAree
Secretary
Lorrainne joined the Board in April 2017. Lorrainne's background includes working for the British Medical Journal Publishing Group in Customer Service. She has a long-standing history of volunteering at her children's schools, at her Church's Mom & Tot group, and as a Sunday School teacher. Lorrainne continues to volunteer on her church's Serving Team here at the Food Bank. Lorrainne immigrated to Canada with her husband and two children in 2010 and has been living in Okotoks for 8 years. They love living near the mountains and regularly take advantage of opportunities to hike and ski.
St. Peter's Anglican
I don't really have a favorite quote or mantra but I really believe that we should treat others in a way we would like to be treated ourselves. We all come from different walks of life, which affords different opportunities. Kindness, compassion, a little understanding and a smile cost nothing. Pass it on!
Shelly Bjorge
Director
Shelly has been a member of the Board since April 2015. Shelly works in Okotoks as a Dental Assistant. In the past she has volunteered for Open Wide and Dentistry for the Heart. She previously held both a Board position and Fundraising Coordinator position for Summer Swim Club. Shelly currently serves as Team Lead with her Church's Serving Team here at the Food Bank. Shelly has lived in Okotoks for 17 years with her husband and two boys. They enjoy a full life of skiing, fishing, hiking, camping and mountain biking.
Holy Cross Lutheran Church
Nanet Robson
Director
Nanet has served on the Board since April 2017. After serving 16 years in the Justice System and 13 years in Facility Management, slowing down to work part time with the Town of Okotoks left Nanet with time to dedicate to serving the community. After volunteering on a Serving Team at the Food Bank and seeing first hand how the resources are distributed to those requiring assistance, she felt it was a calling to contribute further. Being on the Board has been enlightening and it is exciting to be part of the future growth of resources being offered. Nanet and her family have lived in Okotoks since 1999. Her grown son and his family now live here providing Nanet with her favorite past time of spending the day with grandchildren.
Grace Lutheran Church
Benjamin Franklin: Tell me and I forget. Teach me and I remember. Involve me and I learn.
Sindy Blair
Director
Sindy joined the Board in November 2017. Sindy has been a Pediatric Rehab Assistant with Alberta Health Services here in Okotoks for the past 10 years. She has volunteered with many of her children's sports teams over the years, teaches Sunday School at her Church, and volunteers on her Church's Serving Team here at the Food Bank. Sindy has lived in Okotoks with her four children for the past 17 years and is a proud grandmother of a 4-year-old boy. She enjoys spending time with her children, catching up with friends over coffee or on a walk, and going camping in the Okanagan.
Okotoks Alliance Church
Accept what is, let go of what was, have Faith in what will be.
Carol Price
Director
Carol joined the Board in March 2018. Carol is a retired BC Teacher and now works part-time as an Educational Assistant with the Foothills School Division. She has always believed in volunteering and over the years has worked in a variety of organizations. When Carol saw the opportunity to get involved with the Food Bank she was curious to learn more about the organization and jumped at the chance. Carol not only volunteers as a Director but also on a Serving Team and in Client Care. Carol and her husband Ken moved to Okotoks from Quesnel, BC in 2012. Okotoks seemed like the perfect place to call home with family in High River, Airdrie and Edmonton. Carol enjoys biking, hiking, and is learning to play pickle ball as well as Bridge.
Okotoks United Church
John Sangster: Remember to be kind, and a little bit blind, and always look for the good in people.
Dave Wilson
Director
Dave joined the Board in September 2018. His career in Downstream oil and gas spans 42 years, living in 10 different locations. Dave has volunteered for many organizations including United Way, Habitat for Humanity, Junior Achievement, MRU Calgary Marketing Advisory Board, St. James Parish Council and is currently the Grand Knight of Okotoks Knights of Columbus. He and his spouse Odile have lived in Okotoks since 2000 and have four grown children and 8 grandchildren. Dave enjoys reading, financial management, investing in real estate, travelling and working with volunteer organizations where he feels he can make a difference.
St James Catholic Parish
We cannot become what we want by remaining who we are.
Hours of Operation
When can you come see us if you ...
Need Help
Help Yourself Shelves
(Walk In)
Monday : CLOSED
Tuesday: 1:00 – 4:00 pm
Wednesday: 4:30 – 6:30 pm
Thursday: 6:00 – 8:30 pm
Friday: noon – 4:00 pm
Hamper Pick Up
Tuesday: 1:00 – 3:00 pm
Thursday: 6:00 – 8:30 pm
and every third Saturday
of the month by appointment.
Give Help
Donation Drop-Off Hours:
Monday: 12:00 – 4:30 pm
Tuesday: 1:00 – 4:30 pm
Wednesday: 12:00 – 6:30 pm
Thursdays: 9:00 am – 12:00 pm & 6 – 8:30 pm
Friday: 12:00 – 4:30 pm
Urgently Needed

Tea
Hot Chocolate
Dried Soups
Shampoo/Conditioner
Women's Deodorant
Shave Cream/Razors
Cleaning Supplies
Toilet Paper
Call Us or Visit Us
Ph: 403-651-6629
Unit #7 109 Stockton Point - Okotoks, AB T1S 1B3
Mailing Address: P.O. Box 942 - Okotoks, AB T1S 1B1
Charitable #: 89045376RR0001
© 1993 - 2019 Okotoks Foodbank Association